People aged 18 and over in north east London are being urged to come forward to get vaccinated against Covid-19, after thousands had their first jab at an NHS event in Stratford
Organisers hailed "an outstanding collective effort" after the mass vaccination clinic at the London Stadium at Queen Elizabeth Olympic Park on Saturday (19 June).
The clinic ran from 10am to 8pm and was open to anyone aged 18 and over living in Barking and Dagenham, City of London, Hackney, Havering, Newham, Redbridge, Tower Hamlets or Waltham Forest, who had not received their first Covid-19 jab, with people invited to pre-book.
Graham Gilmore, CEO, London Stadium, said: "It was the brilliant collaborative effort between NHS partners, local London boroughs, an army of volunteers and our Stadium team which made Saturday's event such a success. It was heartening to see so many young people in this community wait patiently to get the vaccine, knowing that they are doing their bit to make us all safer and help us return to normal life.
"In addition to the cooperative work on vaccinations, we would like to extend our gratitude to the stakeholders and partners at London Stadium, who stepped up when asked to offer essential support, including their staff workforce, goods and services, cleaning and hygiene, technical expertise and event security, either free of charge or at a significantly reduced cost – making this event possible. This includes Delaware North, VINCI Facilities, CSM Live, Actavo, The Technical Department and Queen Elizabeth Olympic Park. Many thanks to you all."
Dr Jagan John, Chair of NHS North East London Clinical Commissioning Group, said: "It was a fantastic turnout and our teams did an amazing job – to deliver so many vaccine doses on the day was an outstanding collective effort and is testament to the tireless hard work of our staff and volunteers.
"I'm immensely grateful to everyone involved in making this event such a success, including our local partners whose support has been invaluable, and the management and staff at the London Stadium who gave up their time and facilities to help the NHS.
"Every vaccination delivered represents another positive step forward in protecting our communities, saving thousands of lives and giving the entire country hope for a brighter future.
"We are now delivering a final push to vaccinate everyone aged 18 and over so please come forward to make your first appointment or to get your second dose."
Saturday' s event formed part of the work being done by the NHS and its partners to encourage people to come forward for one of the safe, effective Covid-19 vaccines, increase vaccination uptake within all communities in north east London and ensure that no one is left behind. Vaccinations were led by a clinical team from East London NHS Foundation Trust (ELFT).
Dr Paul Gilluley, Chief Medical Officer at ELFT said: "It was a great day for east London, with many thousands of young people from across our boroughs getting their first vaccine but the journey isn't over yet. Variants of the Covid-19 virus are still spreading. I strongly urge anyone who hasn't get booked a vaccine to go online and do it without delay."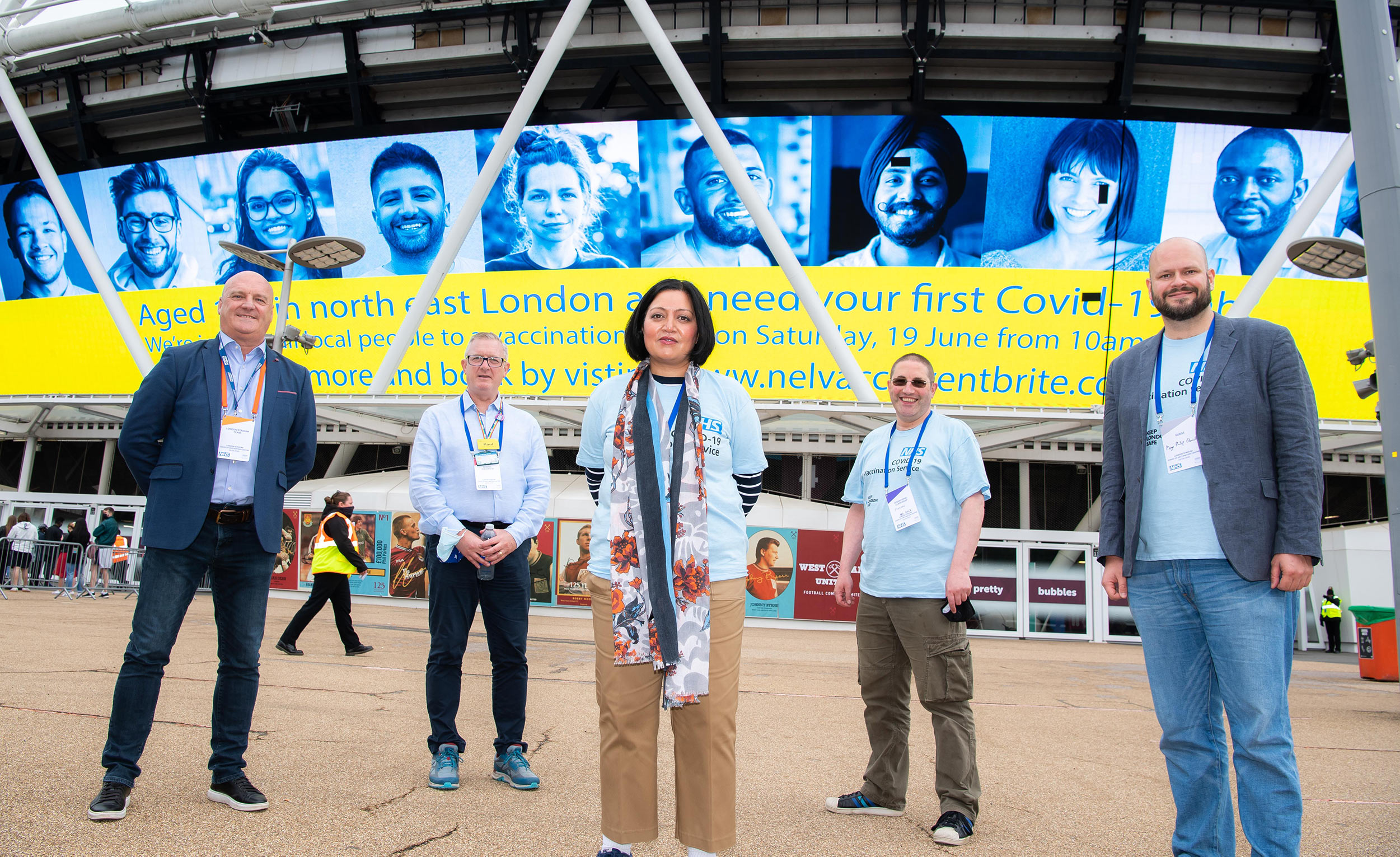 Partnership working enabled the mass vaccination event to take place: (from left to right) Graham Gilmore, CEO at London Stadium; Dr Paul Gilluley, Chief Medical Officer at East London NHS Foundation Trust; Rokhsana Fiaz, Mayor of Newham; Simon Hall, Director of Transformation at North East London Health and Care Partnership; Philip Glanville, Mayor of Hackney